Cheap Comparison Quotes Free and Customized
Chrysler
Walter Chrysler originally founded his namesake Michigan auto company in 1925 from remnants of the Maxwell Motor, Co. In 2009, Chrysler filed Chapter 11 bankruptcy after being hit hard by the economic recession of 2008. Fiat then bought the company, completing the whole transaction in 2014.
Today, the Chrysler Corp. is now known as Fiat Chrysler (or FCA USA LLC). Fiat Chrysler Automobiles N.V. in London holds Fiat Chrysler U.S. as its subsidiary.
Chrysler at one point was considered one of the "Big 3" auto companies in the United States along with Ford and General Motors. Dodge, Jeep, Chrysler, Ram and Fiat all fall under the Chrysler (or now Fiat Chrysler) umbrella. Though it was once a powerhouse, Chrysler has faced and continues to face economic issues.
One of the most significant of the economic ups and downs that Chrysler has faced throughout its history happened around 1978 when it nearly went out of business.
The company was saved when a new CEO named Lee Iacocca came over from Ford. He revamped the company by approaching the U.S. Congress and asking for $1.5 billion in loans. Amazingly, Congress and President Jimmy Carter reluctantly passed the "Chrysler Corporation Loan Guarantee Act of 1979." In a further effort to stimulate growth and revival of the brand, the military purchased several Dodge pickup trucks to serve as cargo vehicles.
Chrysler did have its glory years. In 1936, the car make was second in U.S. sales and this trend continued, more or less, until 1949. The company is also known for some of its key inventions including the first mass-produced four-wheel hydraulic brakes with the help of Lockheed, and the road wheel with a ridged rim to keep tires on the wheel. That design is now utilized by the auto industry all over the world.
Along with the previously mentioned trucks, Chrysler had even more involvement in wartime activities. They helped in areas that spanned from antennas to missiles. Some of its contributions to missiles played an integral part in the Manhattan project and also in President Truman's effort to make sense of the U.S. missile program.
Noteworthy vehicles under the Chrysler umbrella past and present include Plymouth, DeSoto, Imperial and Valiant, and the long-standing Ram, Dakota and Sprinter van. Many of these, including the Imperial and Valiant, went on to become makes of their own.
Chrysler is also known for its production of parts and systems including the early air-temp system for air conditioning and Acustar for parts production. Safeguard auto glass is also manufactured by Chrysler.
Chrysler AVERAGE MONTHLY INSURANCE RATES
NATIONAL AVERAGE :$123
$129

A

$112

B

$130

C

$107

D

$153

E

$94

F

$155

G

$121

H

$143

I

$105

J

$219

K

$118 -

L

$100

M

$96

N

$88

O

$75

P

$111

Q

$149

R

$194

S

$69

T

$136

U

$139

V

$219

W

$123

X

$109

Y

$142

Z

$149

a

$113

b

$114

c

- $98

d

- $141

e

$104

f

$106

g

$88

h

$119

i

$84

j

$162

k

$107

l

$138

m

$142

n

$99

o

$114

p

$123

q

$124

r

$141

s

$104

t

$100 -

u

$97

v

$135

w

$100

x

$112

y
$0 -$60

$61-$120

$121-$180

$181-$240

$241-$300
Average Monthly Premium Compared to All Other Vehicles
$94
Ford Edge SE
4 Door 2WD Utility
$280
Mercedes CL600
2 Door Coupe
Summary
These are actual average rates for all 50 states. The state with the cheapest average rates for this vehicle is Maine at $69, and the state with the most expensive rates is Michigan at $219. The overall average is $123.
Shop on our site to see how much you can save on your Chrysler car insurance rates.
This data is compiled from public insurance state fillings and includes the top 5 carriers, and samples a typical, middle-aged male driver.
Source: Quadrant
Average Premium Cost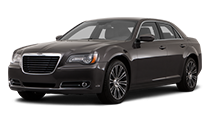 Average Premium Cost
Average Premium Cost
Average Premium Cost
Auto Insurance Quotes Comparison
Beatrice
$400
Jan 20, 2021
Angelita
$1800
Oct 18, 2020
Shuntalisa
$1200
Aug 10, 2020
Corionte
$1200
Jan 16, 2020
Read More...
We all know a car insurance quote is an estimate of how much you'll pay for your policy, and that there are a number of variables to consider. The best way to find cheap car insurance is to compare policy offerings and discounts by collecting online quotes from multiple companies. After all, it's hard to know where to find the cheapest car insurance without seeing how the cards stack up.
Read More...
Enter your zip code and you're off. You'll get free online car insurance quotes that match your budget in less than five minutes. Just provide basic information on your current coverage, your vehicles, drivers, and insurance needs, and we'll hand pick quotes for you from the insurance companies that meet your requirements. This includes comparing provider premiums to find the cheapest car insurance possible without skimping on priorities.
Read More...
We can find you the best quotes for your unique circumstances, but we can't change your driving record or other aspects that impact your insurance options. Here are a few things that can make a big impact now, and in the future.
Bundle your auto insurance with other policies

One of the easiest ways to save is by settling on a single insurer for multiple policies. Most insurance companies will automatically prorate savings and pass them along to you.

Consider a family or group insurance plan

Insurance costs are often lower if you share a policy with multiple people. Bundle each family member's insurance or go in on a policy with a group to find lower rates.

Build your credit score

The better your credit, the easier it is to get a cheaper insurance policy. Insurance companies use this metric to determine insurance costs, so you'll want to work on improving your credit to lower premiums.

Take a defensive driving course

If your driving record is a little rough, it can help to take a defensive driving course. Insurance companies often take that into account, and it can often lower your rates.

Purchase the right kind of car

Cars with safety and anti-theft features can help out your insurance prices, because they're less likely to be stolen or damaged. Definitely take a look at these.
We stand behind our commitment to help you save on car insurance and get you the cheapest auto insurance rates with the policy coverage you want. You shouldn't have to pay extensive premiums for the safety and comfort you deserve.
Read More...
Everybody wants to find the cheapest car insurance without breaking the bank or losing important coverage. You need to protect yourself, your family, and your property while meeting your state requirements. Insurance premiums can be expensive and stressful to deal with, and you may feel like the only way to get affordable insurance is to choose the least amount of coverage. This is simply not the case, and here's why...
How much you can save varies from person to person, but by sharing a review, you can enter our list of the top car insurance savers:
"After being with my insurance company for just shy of 10 years, and after having shopped at companies that everyone around my hometown swore were the cheapest, I decided to shop here... and ended up saving just under $1,100 off my annual insurance bill, which is a lot more than I ever could have imagined anyone saving, especially me, an avid online shopper and extreme bargain hunter [...]"
- Jared