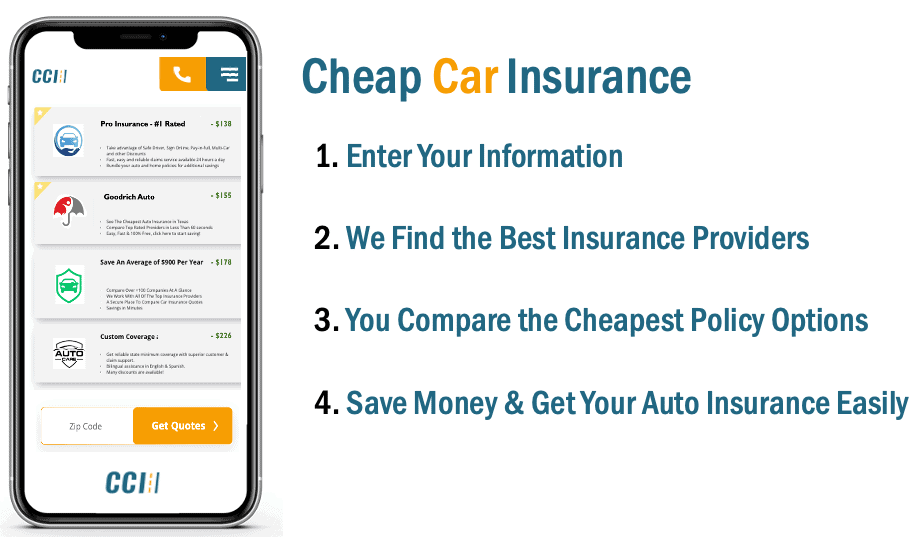 The Grand Canyon, the Mogollon Rim, the Petrified Forest, Tombstone, the OK Corral and the Saguaro Cactus — Arizona is home to an array of wonders that are uniquely southwestern. It's no accident that "snow birds" (tourists who "fly" south for Arizona's mild winters) make Arizona a popular destination year-round. Whether they drive through, spend a season or call Arizona home, drivers and car owners from all walks of life spend time in the "Grand Canyon State" — and every driver needs to carry car insurance in AZ. That's why CheapCarInsurance.net has made the effort to find all the necessary auto insurance in AZ information and arrange it in the following, easy-to-read list to help keep Arizona drivers and car owners safe, secure and informed with the cheapest auto insurance rates possible.

CheapCarInsurance.net wants to make sure drivers and car owners can save money on their insurance rates by getting cheap car insurance in AZ, which is why you can get several comparison quotes for cheap auto insurance in AZ by filling out a simple form, starting with you zip code in the box above. Compare the car insurance quotes for Arizona to find the cheapest coverage and lowest rates.

Many factors determine the cheapest rates available to vehicle owners for auto insurance, including age, accident history, and the year and type of vehicle being driven. To qualify for cheap insurance in AZ, it's important to maintain a good driving record. Be sure to compare many different insurance quotes in AZ to find the cheapest coverage and lowest rates available to you.
Average Costs for Auto Insurance by County
The average costs you pay for your auto insurance premium will be determined by quite a few factors, one of them. being your exact location and county in Arizona. Here are the average costs by car type for each county within Arizona.
| Costs by County: | Sedan: | SUV: | Coupe: | Truck: | Hybrid: |
| --- | --- | --- | --- | --- | --- |
| Apache | $887 | $736 | $843 | $894 | $903 |
| Cochise | $814 | $668 | $772 | $819 | $785 |
| Coconino | $820 | $692 | $778 | $826 | $872 |
| Gila | $905 | $730 | $862 | $910 | $878 |
| Graham | $859 | $721 | $819 | $866 | $868 |
| Greenlee | $796 | $669 | $755 | $802 | $848 |
| La Paz | $891 | $692 | $831 | $844 | $817 |
| Maricopa | $776 | $667 | $746 | $774 | $812 |
| Mohave | $801 | $675 | $765 | $804 | $801 |
| Navajo | $861 | $725 | $813 | $873 | $913 |
Laws & Regulations
Arizona's famous monsoons can bring torrential downpours at rates that cause instant flash floods in the middle of the desert. Changes to auto insurance rates, laws and coverage regulations seem to happen just as fast. Because of these never-ending changes, here is a list of the most current key points to keep drivers in the loop and to help them make the best call for getting the cheapest insurance rates.
Minimum Requirements for Car Insurance in Arizona
Arizona's Department of Transportation states that all drivers must be covered by a minimum of liability insurance.This protects drivers and vehicle owners in the event of an auto accident, and rates can vary for even the minimum level of coverage.
Arizona Liability Coverage minimums include:

$15,000 liability coverage for bodily injury involving a single person.
$30,000 liability coverage for bodily injury involving two or more people.
$10,000 for property-damage liability coverage.

Arizona requires all drivers to carry proof of current insurance, and failure to do so could result in vehicle registration and drivers license suspension. Penalties could also include the requirement to purchase SR22 insurance, which can be costly to the driver and may increase your auto insurance rates.
New Driver Licensing Requirements
Arizona requires all drivers to be licensed to drive a vehicle in the state, and the Arizona Motor Vehicle Division (MVD) typically issues an "extended" license. The extended license is valid until the driver reaches the age of 65; however, the vision screening and the photo must be renewed every 12 years. Drivers age 60 and older must renew their license every 5 years, and no regular driver license may be issued to a driver under the age of 18.
The Arizona requirements to obtain a drivers license are listed below, and, for further information, the Arizona Drivers Manual can be accessed here.
Vision Test. Applicants must pass the vision test with a visual acuity of at least 20/40. Corrective and telescopic lenses may be worn, and night vision restrictions can be applied to a license. This allows an applicant with less than 20/40 visual acuity to drive under certain restrictions. The Arizona MVD addresses these restrictions in detail.
Written Test. Three attempts within 12 months allow all applicants who require the written test adequate opportunity to pass. Upon three failures, the applicant must pay fees to begin a new application. Touch-screen computer workstations at select MVD offices provide the applicant with 30 multiple-choice questions. Applicants can study the Arizona Driver License Manual (link provided above) and take multiple Practice Tests to prepare for the exam. Some applicants with current out-of-state licenses may not need to take this test, and verbal options are available for applicants needing assistance.
Road Test.As with the written test, Arizona MVD allows three attempts to pass the road test within a 12 month period. The applicant must provide his/her own vehicle that must be registered and insured with current license plates and tabs. The applicant must be able to understand traffic signs prior to driving the test. The Arizona Driver Manual states that the administrator will evaluate the applicant's ability to execute the following commands/actions when instructed to do so in English:

Stop
Slow down
Drive straight ahead
Use of turn signals
Left and right lane change
Turn (left/right) at the next street, corner, stop sign, or traffic light
Honk the horn
Speedometer
Seat belt

Pay a License Fee.Although a Learner's Permit holds a fixed $7 fee, Arizona's drivers license fees vary by age:

Ages 16-39: $25
Ages 40-44: $20
Ages 45-49: $15
Ages 50-Up: $10

Drivers Under the Age of 18. A graduated license is issued to drivers over 16 and under 18 who have held a learner's permit for 6 months. To obtain the graduated license, the applicant must either complete an MVD-approved driver education course or be able to provide proof of 30 hours of supervised driving. This must be documented by a parent or legal guardian, and it must include 10 hours of night driving.
Drivers Under the Age of 21. While all regular driver licenses in Arizona are horizontally oriented, the state issues vertically oriented licenses to drivers under 21. These licenses also include the date the driver turns 21.
DUI/DWI Laws for Arizona
BAC limit: .08 Arizona institutes jail time for any DUI/DWI offense and also requires drug or alcohol screening before being eligible to reinstate a permit or driver license.
First Offense:

Minimum jail time of 10 days with no eligibility for parole or sentence suspension.
$1,250 minimum fine.
Ignition interlock device.
Perform community service.

Second and Subsequent Offense:

Minimum jail time of 90 days.
$3,000 minimum fine.
Ignition interlock device.
License revocation of 1 year.
Perform community service.

Arizona law also makes a distinction between DUI (BAC of .08), extreme DUI (BAC of .15 or higher) and aggravated DUI. Aggravated DUI includes a driver who commits a DUI with a passenger under the age of 15, commits DUI while his/her license is suspended, cancelled or revoked, commits a third DUI within 84 months or commits a DUI or refuses to submit to a blood alcohol test while under the ignition interlock restriction. Penalties for extreme and aggravated DUI are increasingly more severe.
For additional information regarding Arizona's ignition interlock systems, visit Arizona's DOT website.
Arizona Driving Resources
State Department of Insurance
Arizona Department of Insurance
2910 N. 44th St., Ste. 210 (2nd Floor)
Phoenix, AZ 85018-7269
(602) 364-2499 or
toll free (800) 325-2548
www.azinsurance.gov
Get directions
Department of Transportation
Arizona Department Of Transportation
Department of Transportation
1130 N 22nd Ave, Phoenix, AZ 85009
(907) 465-3900
www.azdot.gov
Get directions
Department of Motor Vehicles
Arizona Motor Vehicle Division
(602) 255-0072
www.azdot.gov/mvd
Find hours and office locations here.