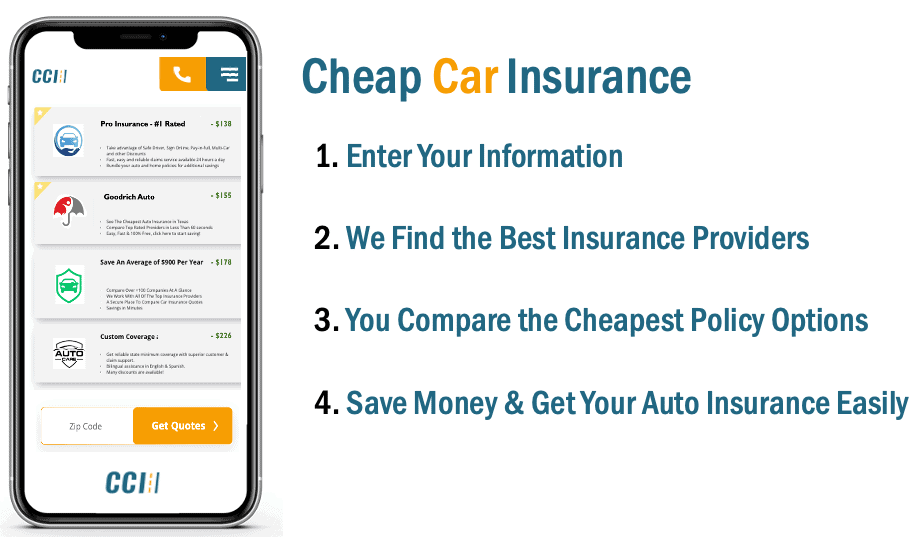 How to Get Cheap Car Insurance in Iowa
The Missouri River, the Mississippi River, the Sioux River and the American Heartland; Iowa is as American as a state can get. In the heart of the Corn Belt, this midwestern state hosts rolling hills, neatly-lined crop fields, industrial-sized family farms and an unbeatable American spirit. While not the tourist attraction that some of its neighbors are, Iowa has been supporting America's families for generations through its industry and agriculture. An easy drive through flat plains and highways, this state can be a pleasure to live in or to visit. CheapCarInsurance.net is making sure Americans like those living in Iowa are well protected by providing beneficial, easy-to-read car insurance information.
Average Cost of Car Insurance in Iowa
Car insurance is a crucial aspect of owning a vehicle in Iowa, as it provides financial protection against potential accidents or damages. However, before purchasing car insurance, it's important to understand the average cost of car insurance in Iowa, which can vary based on various factors.
As of 2023, the average cost of car insurance in Iowa is approximately $800 to $1,200 per year for a full coverage policy, which includes liability coverage, collision coverage, and comprehensive coverage. However, it's important to note that this is an estimated average and individual rates may vary based on factors we discuss below. Here is a breakdown of the average costs by car type and your current location in Iowa:
| Costs by County: | Sedan: | SUV: | Coupe: | Truck: | Hybrid: |
| --- | --- | --- | --- | --- | --- |
| Adair | $884 | $728 | $802 | $919 | $972 |
| Adams | $884 | $728 | $802 | $919 | $972 |
| Allamakee | $875 | $721 | $792 | $911 | $963 |
| Appanoose | $884 | $728 | $802 | $919 | $972 |
| Audubon | $884 | $728 | $802 | $919 | $972 |
| Benton | $871 | $718 | $790 | $751 | $886 |
| Black Hawk | $836 | $698 | $782 | $853 | $903 |
| Boone | $867 | $715 | $791 | $751 | $886 |
| Bremer | $860 | $709 | $780 | $823 | $943 |
| Buchanan | $838 | $689 | $759 | $791 | $922 |
| Buena Vista | $801 | $662 | $730 | $739 | $872 |
| Butler | $870 | $718 | $791 | $835 | $954 |
| Calhoun | $807 | $664 | $736 | $804 | $885 |
| Carroll | $797 | $660 | $728 | $825 | $872 |
| Cass | $884 | $728 | $802 | $919 | $972 |
What Factors Affect Car Insurance Rates
Several factors influence car insurance rates in Iowa, including:
Age: Younger drivers typically pay higher insurance premiums due to their lack of experience behind the wheel.
Gender: Statistically, males tend to have higher accident rates, which may result in higher insurance premiums compared to females.
Driving Record: A clean driving record with no accidents or traffic violations can result in lower insurance rates, while a history of accidents or violations can increase premiums.
Vehicle Make and Model: The type of vehicle you drive can also affect your insurance rates. Expensive or high-performance vehicles may have higher premiums compared to more affordable or safer vehicles.
Coverage Amount: The amount of coverage you choose can also impact your insurance rates. Opting for higher coverage limits or additional coverage options may result in higher premiums.
Deductibles: A higher deductible, which is the amount you pay out of pocket before insurance coverage kicks in, can result in lower premiums, while a lower deductible may lead to higher premiums.
Minimum Car Insurance Requirements in Iowa
Iowa has minimum car insurance requirements that drivers must meet to legally operate a vehicle in the state. As of 2023, the minimum requirements for car insurance in Iowa are:
Liability Coverage:

$20,000 per single bodily injury or death
$40,000 per multiple bodily injury or deaths
$15,000 for property damage
Liability coverage provides financial protection if you cause an accident and are responsible for injuries or damages to others.
Uninsured/Underinsured Motorist Coverage:

$20,000 bodily injury per person
$40,000 bodily injury per accident
Uninsured/Underinsured Motorist coverage protects you if you're involved in an accident with a driver who doesn't have insurance or doesn't have enough insurance to cover your injuries or damages.
Personal Injury Protection (PIP):
PIP coverage provides coverage for medical expenses, lost wages, and other related expenses regardless of who is at fault in an accident.
It's important to note that these are the minimum requirements, and it's recommended to consider higher coverage limits and additional coverage options to ensure adequate protection in the case of an accident.
Ways to Lower Car Insurance Premiums in Iowa
While car insurance premiums in Iowa are influenced by various factors, there are several ways to potentially lower your car insurance premiums, including:
Maintaining a Clean Driving Record: Avoiding accidents and traffic violations can result in lower insurance rates over time.
Shopping Around for Insurance Quotes: Obtaining quotes from multiple insurance providers can help you compare rates and choose the most affordable option.
Bundling Policies: Bundling your car insurance policy with other insurance policies, such as home or renter's insurance, can often result in discounted premiums.
Increasing Deductibles: Opting for a higher deductible can lower your premiums, but it's important to ensure you can afford the higher out-of-pocket expenses in case of an accident.
Taking Advantage of Discounts: Many insurance providers
New Driver Licensing Requirements for IA
Residents of Iowa must obtain a state drivers license within 30 days of residency. Residents may obtain a license by passing the vision, written and road tests and by paying the required fees.
New drivers under 18 years of age must apply for a Graduated Drivers License (GDL). The GDL consists of an Instruction Permit, an Intermediate License and a Full License. The purpose of this program is to give applicants supervised driving experience prior to obtaining their full license.
To obtain an Instruction Permit, the applicant:

Must be at least 14 years old
Must hold the permit for at least 12 months
Must complete an Iowa MVD approved driver education course
Must successfully pass the knowledge and vision tests
Log 20 hours of drive time including 2 hours of nighttime driving
Must have parental or legal guardian consent

Restrictions on the Instruction Permit include:

Must be accompanied by parent/legal guardian, a licensed driver over 25 with written consent, a family member over 21 or a driving instructor
Number of passenger cannot exceed the number of seat belts

After holding the permit for at least 12 months and turning 16 years old, the applicant may obtain the Intermediate License. Restrictions and requirements for this license include:

Written consent from parent or legal guardian
Must hold the license for at least 12 months
May drive unsupervised between the hours of 5 am and 12:30 am
May drive at any time if supervised according to the above Instruction Permit guidelines
Must log 10 hours of driving with 2 hours of nighttime driving
For the first 6 months only, passengers are restricted to only one unrelated minor passenger

After holding the Intermediate License for 12 consecutive months without an accident or violation, the driver, if 17 years old, may apply for a Full License. If under 18, applicant must have parent or legal guardian's written consent.
Vision Exam. The Iowa Driver's Manual explains the importance of vision when driving a vehicle, and it outlines additional precautions that can and should be taken by all drivers. The vision exam is a minimum requirement, and to pass, the applicant must have vision acuity of at least 20/40. Corrective lenses may be worn to pass the test, and these lenses must be worn when driving as well.
Visual acuity between 20/40 and 20/70 requires a daytime driving restriction, and a field of vision between 100 and 139 degrees requires left and right outside mirrors. Visual acuity worse than 20/70 and field of vision less than 100 degrees will result in ineligibility for a license.
Knowledge Test. A touch screen computer provides the knowledge test to evaluate the applicant's understanding of basic road signs and rules. All of the information necessary to pass the knowledge test is located in the Iowa Driver's Manual.
Road Skills Test. The applicant's vehicle must be properly registered, insured, licensed and maintained. The vehicle must be driven to and from the testing site by a licensed driver. The test will evaluate the applicant's ability to safely operate and control his/her vehicle.The test administrator will sit in the front seat adjacent to the driver. If the driver fails the skills test, the administrator will explain and the applicant will be allowed to re-take the test.
Fees. The Iowa MVD lists the following fees for Iowa drivers licenses:

Instruction Permit, $6
Intermediate License, $8
Full drivers license, $4 per year
DUI and DWI Laws in Iowa
BAC limit: .08 Iowa holds to a Zero Tolerance Law regarding under age Operating While Intoxicated (OWI) offenses. BAC limit for drivers under the age of 21 is .02, and for further details see the Iowa DOT Driver Services website. Every license suspension requires a $200 re-instatement fee. The following is a list of the state's penalties for OWI convictions:
First Offense:

Minimum 180-day license revocation
If BAC was above .15 and/or the violation involved an accident, the driver must wait 30 days to apply for a temporary restricted license
If BAC was greater than .10 and/or the violation involved an accident, the driver must install an Ignition Interlock Device (IID) to be eligible for the restricted license
Driver under age 18 is not eligible for a restricted license

Second Offense:

Minimum 1-year license revocation
The driver is not eligible for a temporary restricted license for 45 days
IID required for all vehicles the driver owns or operates
Drivers under the age of 18 are not eligible for a temporary license, and the license revocation lasts for 12 months or until the driver turns 18; whichever is longer

Third Offense:

Minimum 6-year license revocation
Driver may apply for a temporary restricted license after one year if all vehicles he/she owns or operates are equipped with IID('s)

Any OWI offense resulting in bodily injury requires an additional 1-year license revocation and IID installations.
If the OWI offense results in a death, the license revocation is extended by 6 years, IID is installed and the driver will not be eligible for a restricted license for 2 years.
Driver Resources:
State Department of Insurance
Iowa Insurance Division
601 Locust St.,
4th Floor
Des Moines, IA 50309-3738
Phone: 515-281-5705
www.iid.state.ia.us
Get Directions
Department of Transportation
Iowa Department of Transportation
800 Lincoln Way
Ames, IA 50010
(515) 239-1101
www.iowadot.gov
Get Directions
Department of Motor Vehicles
Iowa Department of Transportation
Motor Vehicle Division
800 Lincoln Way
Ames, IA 50010
(800) 532-1121
www.iowadot.gov/Mvd
Get Directions