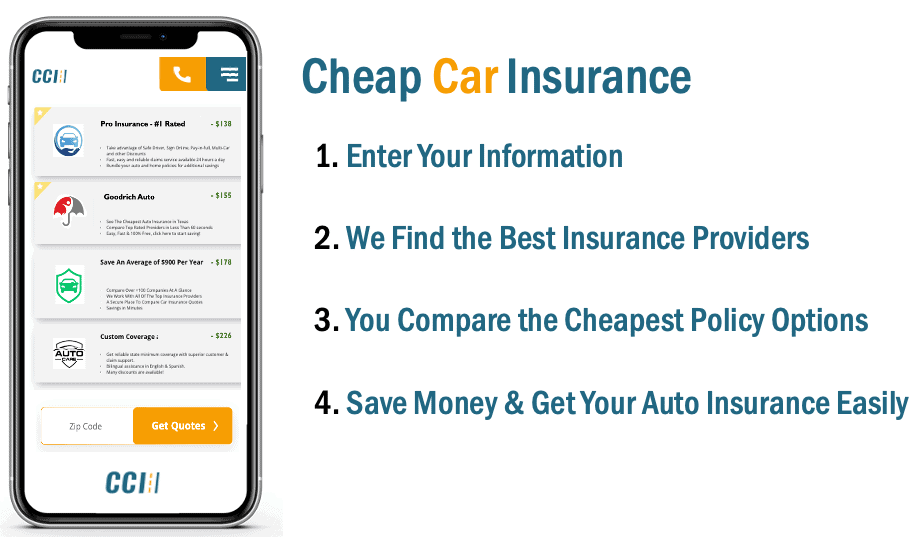 Cheap Auto Insurance in Nevada
Nevada, the driest state in the nation, is home to the oasis in the desert: Las Vegas. The Vegas Strip, Lake Tahoe and the Sierra Nevadas are some of the internationally-acclaimed attractions that bring visitors from all over the world. Desert camping to mountain skiing and wake boarding to ice skating, Nevada knows how to keep its residents entertained. CheapCarInsurance.net knows how to keep Nevada's drivers protected, and this list of useful car insurance information makes it that much easier.
Average Costs for Car Insurance in Nevada
Nevada auto insurance costs on average around $1054 for minimum state coverage and around $2,532 per year for a full coverage auto policy. The quotes you'll receive will vary in price based on quite a few factors that insurance providers use to determine how much it will be. These factors may include current city, driver demographics, and possible discounts applied. Here is the breakdown of the most common prices for Nevada drivers broken down by vehicle type and your current location in the state:
| Auto Insurance Costs by County: | Sedan: | SUV: | Coupe: | Truck: | Hybrid: |
| --- | --- | --- | --- | --- | --- |
| Carson City | $1,098 | $1,067 | $1,210 | $1,136 | $1,216 |
| Churchill | $982 | $941 | $1,069 | $1,072 | $1,137 |
| Clark | $1,163 | $1,100 | $1,240 | $1,254 | $1,315 |
| Douglas | $1,040 | $1,048 | $1,218 | $1,132 | $1,178 |
| Elko | $982 | $939 | $1,063 | $1,072 | $1,137 |
| Esmeralda | $1,042 | $988 | $1,117 | $1,138 | $1,206 |
| Eureka | $982 | $999 | $1,133 | $1,072 | $1,137 |
| Humboldt | $982 | $954 | $1,084 | $1,072 | $1,137 |
| Lander | $982 | $989 | $1,120 | $1,072 | $1,137 |
| Lincoln | $1,042 | $979 | $1,103 | $1,126 | $1,191 |
Minimum Requirements for Car Insurance in Nevada
The Nevada Department of Insurance requires all drivers in the state to be covered by Liability Insurance.
Liability Coverage minimums:

$15,000 per individual to cover bodily injury or death.
$30,000 per accident involving bodily injuries or deaths.
$10,000 for property damage.
Every driver in the state who is considering cheap auto insurance coverage should access the state's Consumer's Guide to Auto Insurance brochure.
New Driver Licensing Requirements:
The Nevada Department of Motor Vehicles states that residents new to Nevada have 30 days from the date of residency to obtain a state driver license. Failure to comply results in a $1,000 fine, and the minimum fine is $200 if the driver complies. A driver with a current out-of-state driver license must pass the vision and written tests to obtain a Nevada driver license.
Nevada requires all new drivers under the age of 18 to complete an approved driver education course prior to obtaining a license. The options for this course include:

Complete a classroom course (30 hours) and complete 50 hours of supervised driving
Complete an online course and complete 50 hours of supervised driving
Complete 100 hours of supervised driving. This option is for applicants who live where no course is offered within 30 miles and who do not wish to attend the online course.

Instruction Permit. At age 15 years, 6 months, applicants are eligible for an Instruction Permit. This permit allows the driver to drive with a supervisor outside of the driver education course. To apply, the applicant must:

Pass the written and vision tests.
Pay the licensing and testing fees.

All applicants must complete the driving requirements:

50 hours of driving with 10 hours of night driving.
Must be accompanied by a licensed driver age 21 or older at all times.

To obtain a full driver license, applicants must meet the following requirements:

Must be at least 16 years of age
Hold an Instruction Permit for at least 6 months
Have a clean driving record: No at-fault accidents, moving violations and/or alcohol-related convictions
All drivers under the age of 18, whether holding an instruction permit or a full license, may not have any unrelated passengers under the age of 18. This applies to the first 6 months of holding a regular drivers license, and after that period the restriction is lifted.
All drivers under the age of 18 may not drive between the hours of 10 pm and 5 am unless driving to work or school.

Vision Exam. Each applicant must pass the vision test. The minimum requirement is a visual acuity of at least 20/40 with or without corrective lenses. If the applicant requires corrective lenses, a restriction will be placed on the license.
Written Test. 40 out of the 50 multiple choice questions on the exam must be answered correctly to pass. The Nevada DMV has provided a practice test of 10 questions that can be accessed here.
Road Skills Test. The Nevada Driver's Manual describes the road skills test, and it points out that the following items will be inspected on the vehicle used for the test:

Registration, license plates and proof of insurance
Headlights
Taillights
Brake lights
Turn signals
Horn
Seat belts
Tires
Windshield wipers

The test administrator will have the applicant perform a variety of driving maneuvers and score the applicant using a points system. Immediate failure can result from serious violations such as speeding or failure to yield.
A failed test may be taken within 30 days.
Fees. New Nevada drivers are required to pay the following license fees:

Testing fees, $25. Re-tests, $10.
Learner's Permit, $22.25
Regular Driver's License, $22,25
DUI & DWI Laws in Nevada
BAC limit: .08 Nevada's Department of Transportation outlines the penalties for a DUI conviction in the state:
First Offense:

Fine: $400 to $1,000
Jail: 2 days to 6 months
License suspension: 90 days
Ignition Interlock Device (IID): possible

Second Offense:

Fine: $750 to $1,000
Jail: 10 days to 6 months.
License suspension: 1 year
IID: possible

Third Offense:

Fine: $2,000 to $5,000
Jail: 1 to 6 years
License suspension: 3 years
IID: required beginning after assigned suspension

Fourth and subsequent DUI's are felonies, and DUI conviction penalties increase when the offense includes higher BAC levels and/or aggravated factors.
Driver State Resources:
State Department of Insurance
Department of Business and Industry
Division of Insurance
Carson City office:
(775) 687-0700
1818 E. College Pkwy., Suite 103
Carson City, NV 89706
(775) 687-0700
Get Directions
Las Vegas office:
2501 East Sahara Ave., Suite 302
Las Vegas, NV 89104
(702) 486-4009
(888) 872-3234
www.doi.nv.gov
Get Directions
Department of Transportation
Nevada Department of Transportation
1263 S. Stewart St,
Carson City, NV 89712
(775) 888-7000
www.nevadadot.com (official website)
Get Directions
Department of Motor Vehicles
Nevada Department of Motor Vehicle
555 Wright Way
Carson City, NV 89711
Las Vegas Area: (702) 486-4368 (486-4DMV)
Reno/Sparks/Carson City: (775) 684-4368 (684-4DMV)
Rural Nevada: (877) 368-7828
www.dmvnv.com (official website)
Get Directions