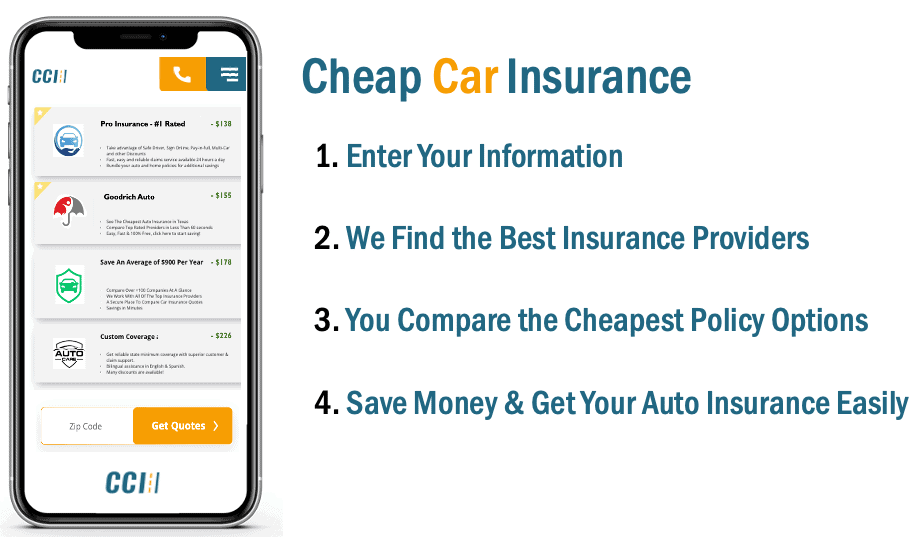 New York Auto Insurance
From breathtaking Niagara Falls to jaw-dropping New York City, the "Empire State" rivals the best of the U.S. for its variety of natural and man-made attractions. New York is home to just over 8 million residents, and NYC ranks as the most densely populated city in the U.S. And even with all these New Yorkers, the state's pristine 176 state parks maintain the natural wonder of historic New England. It's no wonder drivers from every state have made New York their vacation spot year after year, and CheapCarInsurance.net is doing its job to make sure all these visitors and residents alike are protected while on the road, with plenty of information about New York laws and auto insurance from many companies, including ways to find the cheapest car insurance in New York. To help out, here's a list of helpful facts every driver should know when driving in New York and looking for cheap car insurance in New York.
Minimum Requirements for Car Insurance in New York
The New York DMV states that every driver in New York must carry a minimum of liability insurance coverage on their vehicle.
New York Liability Auto Insurance Coverage minimums:

$25,000 for individual injury and $50,000 for individual death in a car accident.
$50,000 for multiple individuals' injuries and $100,000 for multiple deaths in a car accident.
$10,000 for property damage.

New York requires a vehicle to be insured in order to register the vehicle in the state. Also, the name on the auto insurance and registration paperwork must match.
How to Get a NY Drivers License
To operate a car in the state of New York, a driver must be 16 years of age or older and have a valid drivers license. If the driver is under 18, the driver must follow the restrictions listed on the New York DMV website. The following lists the requirements to obtain a NY drivers license.
Vision Test.Every driver must pass the vision test with a visual acuity of 20/40 or better. An applicant can have the test performed by any of the following professionals:

PhysicianPhysician's assistantOphthalmologistOpticianRegistered nurseNurse professional

A Vision Test Report must be submitted by the professional or by the vision care provider listed in the DMV Online Vision Registry. If it is determined that the applicant requires corrective lenses, a license with a "B" restriction may be issued. Two other vision restrictions include:

Telescopic Lenses: A "Telescopic Lenses" restriction can be placed on a drivers license after the applicant submits an Eye Test Report for Medical Review Unit form.Daylight Driving Restriction: This restriction can be placed on a driver's license if the vision professional determines their night vision is impaired.

Each vision restriction can be removed by taking the necessary steps listed on the NY DMV website.
Written Test. Access the Driver's Manual and Study Guide to prepare for the written test. An applicant must complete either a Driver Education Course, a Pre-licensing Course or pass the written test prior to scheduling the road test.
If the applicant is under age 18, 50 hours of supervised driving experience must be documented with a Certificate of Supervised Driving. Included within the 50 hours must be 10 hours in moderate to heavy traffic and 15 hours of night driving.
Road Test.The car used in the road test must be safe, insured and registered, and it must be driven to and from the testing facility by a licensed driver. The road test evaluates the applicant's skills in each of the following areas:

Steering
Acceleration
Braking
Clutch/Gears
Speed
Communication
Observation
Traffic signs, signals and markings
Following distance
Stopping position
Lane selection and position
Anticipation and reaction

Pay a License Fee. Each applicant is required to pay licensing fees after completing the testing requirements. These fees range from $64.25 to $107.50 depending on the type of license and endorsements. A full list of fees can be found at DMV.NY.gov.
If under 18 years of age, the applicant must wait 6 months from the date the learner's permit was released to schedule a road test.
DUI – DWI Laws in NY
BAC limit: .08 The New York DMV website has published a document providing all the necessary information regarding New York DUI/DWI laws. Following is a summary of New York's relevant DUI/DWI violations. While aggravated DUI (BAC of .18 or higher) holds more severe penalties and Driving While Ability Impaired (BAC .05 to .07) holds less severe penalties, DWI (BAC .08) is included here to provide an average example.
First Offense:

Misdemeanor
Minimum $500 and maximum $1,000 fine.
Maximum 1 year imprisonment.
Age 21 and older receives a minimum 6 month license revocation, and under 21 receives a minimum 1 year license revocation.

Second Offense within 10 Years:

Class E Felony
Minimum $1,000 and maximum $5,000 fine.
Maximum 4 years imprisonment.
Age 21 and older receives a minimum 1 year license revocation, and under 21 receives a 1 year revocation or until age 21, whichever is longer.

Third Offense within 10 Years:

Class D Felony
Minimum $2,000 and maximum $10,000 fine.
Maximum 7 year imprisonment.
Age 21 and older receives a minimum 1 year license revocation, and under 21 receives a 1 year revocation or until age 21, whichever is longer.
NY Driver Resource:
State Department of Insurance
New York Department of Financial Services
For a list of DFS offices and to get directions, visit www.dfs.ny.gov.
Contact the Consumer Hotline at (800) 342-3736
Local calls can be made to (212) 480-6400
www.dfs.ny.gov/insurance
Department of Transportation
New York Department of Transportation
To locate a New York DOT office and to get directions, visit www.dot.ny.gov/regional-offices
(518) 457-6195
https://www.dot.ny.gov/
Department of Motor Vehicles
New York Department of Motor Vehicles
For the department's website, to find a local office and to get directions, visit http://dmv.ny.gov/
(518) 473-5595