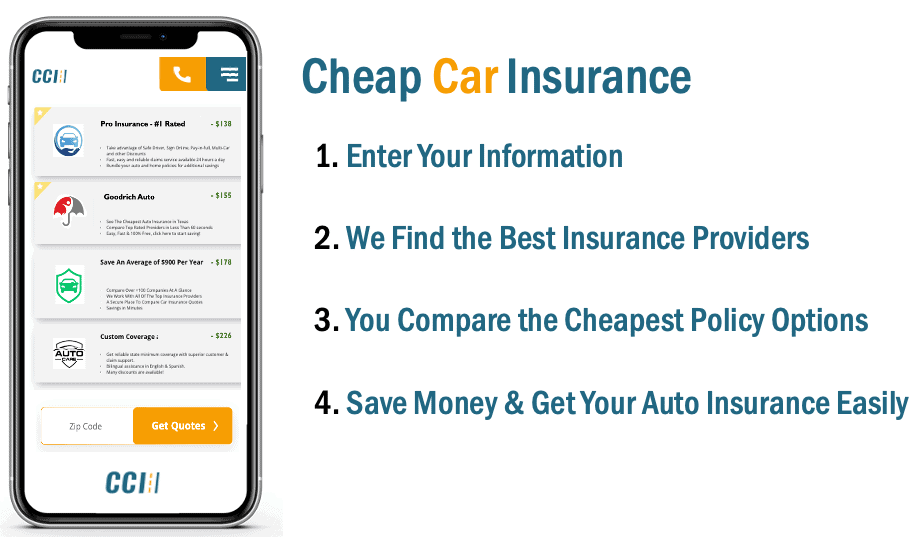 Cheap Auto Insurance in Rhode Island
Being the smallest state and the second most densely populated, Rhode Island can be a bit crowded at times. But that seems to add to this New England state's charm. The first state to declare its independence from England in 1776, the long history of American freedom gives this little giant a patriotic feel. Known as "The Ocean State", Rhode Island sports numerous beaches with grand Atlantic views and cozy seaside bed and breakfasts. The colorful Fall season is a favorite tourist attraction for the state, and an easy-going, border-to-border drive can take approximately an hour. Driving through this state doesn't take long, so CheapCarInsurance.net has made the car insurance information hunt just as short. By providing all the necessary information in one easy-to-follow article, driving in Rhode Island is now much more simple.
Average Car Insurance Costs in Rhode Island
Across the state drivers in Rhode Island can expect to pay an average of $580 a year for state minimum coverage and $1,795 a year for a full coverage auto policy. These rates will vary based on your personal demographics, driving history, vehicle type and your current city.
To understand what the average costs for an auto policy will be you can read the table below from our insurance costs database from vehicle type insurance and current city:
| Auto Insurance Costs by County: | Sedan: | SUV: | Coupe: | Truck: | Hybrid: |
| --- | --- | --- | --- | --- | --- |
| Bristol | $1,215 | $914 | $1,246 | $1,165 | $1,130 |
| Kent | $1,612 | $1,220 | $1,651 | $1,559 | $1,502 |
| Newport | $1,215 | $914 | $1,246 | $1,165 | $1,130 |
| Providence | $1,588 | $1,190 | $1,610 | $1,545 | $1,482 |
| Washington | $1,296 | $977 | $1,334 | $1,234 | $1,202 |
How Much Car Insurance Do I Need in RI?
Rhode Island's Division of Insurance requires Liability Insurance on every vehicle in the state.
Liability minimums:

$25,000 per individual injured.
$50,000 per injury accident.
$25,000 to cover accident-involved property damage.
New Drivers License Information
Drivers transferring an out-of-state license to Rhode Island must take only the vision and written tests to obtain a license. For new drivers under 18, the Graduated Driver's License (GDL) program has been designed to help train young drivers in the skills of driving. The GDL consists of three steps:

Limited instructional permit
Limited provisional license
Full unrestricted license

Limited Instructional Permit. Applicants must complete an approved driver education class and pass the DMV computer test prior to applying for the permit. Applicants over 18 may forego the driver education course. The following applies when holding the Limited Instructional Permit:

The applicant must have a supervisor in the vehicle at all times. The supervisor must be 21 or older and must have held a license for at least 5 years.
The applicant must drive with this permit for 6 months.

Limited Provisional License. Requirements to obtain this license are:

The applicant must have held the Instruction Permit for at least 6 months with no moving violations within the 6 months preceding application to the Provisional License.
The applicant must have passed the road skills test.
The applicant's 50 hours of supervised driving must be completed. This should include 10 hours of night driving.

While holding this license, the following driving restrictions apply:

May drive with supervision (described above) at any time.
May drive without supervision from 5am to 1am or when driving:

to/from work
to/from volunteer rescue, fire or emergency medical service

Full Operator's License. To qualify for this license, the applicant must be at least 17 years, 6 months of age and have held a Limited Provisional License for at least 12 months without violations. There are no restrictions on a Full Operator's License.
Vision Screening. This test is administered to new drivers and to drivers upon each license renewal. A visual acuity of at least 20/40 is required with a visual field of at least 115 degrees with or without corrective lenses.
Knowledge Test. Based on the Rhode Island Driver's Manual, this test evaluates one's understanding of the basic driving rules and regulations.
Road Test. The test administrator will inspect the applicant's car that he/she plans to use for the test. The administrator will check the:

Headlights
Brake lights
Directional lights
Hazard lights
Turn signals
Tires
Legal window tint.

The applicant should be very familiar with all the controls inside the vehicle, and he/she must demonstrate operation of a variety of these controls. The administrator will take the applicant through a series of traffic situations to observe his/her vehicle control and overall driving skills.
If the applicant fails the test, he/she must wait 30 days to re-take it.
Fees:

Instructional Permit: $10
Provisional License: $11.50
State DUI & DWI Laws
BAC limit: .08 Rhode Island law (§ 31-27-2) addresses DUI convictions in the state. Following is a list of pertinent penalties for a typical Rhode Island DUI:
First Offense:

Jail: maximum 1 year
Fine: $100 to 500
License suspension: 2 to 18 months

Second Offense within 5 Years:

Jail: 10 days to 12 months
License suspension: 1 to 2 years
Fine: $400 to $1.000
Ignition Interlock applied

Third Offense within 5 Years:

Jail: 1 to 5 years
License suspension: minimum of 2 years
Fine: $400 to $5,000
Ignition Interlock applied

Rhode Island's Zero Tolerance Law allows for a DUI conviction of an underage driver with a BAC of .02 or greater.
State Driving Resources
State Department of Insurance
Rhode Island Department of Business Regulation
Division of Insurance Regulation
1511 Pontiac Ave.
Cranston, RI 02920
1-877-881-6388
Get Directions
Department of Transportation
Rhode Island Department of Transportation
Two Capitol Hill
Providence, RI 02903
(401) 222-2450
Get Directions
Department of Motor Vehicles
Rhode Island Department of Revenue
Division of Motor Vehicles
600 New London Ave.
Cranston, RI 02920-3024
(401) 462-4368
www.dmv.ri.gov
Get Directions